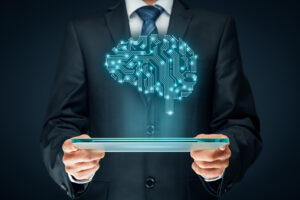 By Carissa DeLuca, CPA, CFE
Audit Manager
For several years now we've been hearing about how Artificial Intelligence (AI) is the future of seemingly just about every industry.  Industries from healthcare to banking have started to uncover the benefits of using AI. The accounting profession is no different and is starting to adapt AI in many service areas.
The Wright Ford Young & Co. audit team has taken a dive into the use of AI with some of our 2020 audit engagements.  We have a selected a program that will enhance our review of our clients' general ledgers and trial balances.  The program is built on 28 control points that will be able to classify transactions that meet high, medium, and low risk marks which allows us to adjust our risk assessment accordingly.
Another major benefit of AI is that the program also learns as more data is added. Thus, after a few years the program will refine what is normal or recurring in our clients' general ledgers and identify transactions that are not.  We are able to use AI in most ERP systems with new accounting system compatibility being added each year.
Technology implementation can be difficult, and as with anything new there is a learning curve and a time investment in the beginning. But we believe that this add-on to our audit engagements will allow us a level of review no human could replicate. Paired with auditor judgement, we expect increasingly more focused and streamlined engagements in the future.
We have a vision of where our industry is going and while there may be value in waiting to jump in until the waters have been tested and other firms have experimented more with AI, we are eager to be a leader and put this technology to the test. To learn more about AI in auditing, contact us here.
Wright Ford Young & Co. is headquartered in Irvine, CA and is the largest single office CPA firm in Orange County. WFY is a full service corporate accounting firm offering audit, tax, estate and trust, and business consulting services to closely held company and family business owners. More information about our Firm can be found at www.cpa-wfy.com
https://www.cpa-wfy.com/wp-content/uploads/2021/04/AI-EY-200.jpg
200
200
Chanelle Bossert
https://www.cpa-wfy.com/wp-content/uploads/2023/02/WFY_Horizontal-Logo-50-1.png
Chanelle Bossert
2021-04-01 10:02:14
2021-08-17 10:17:18
AI in Auditing