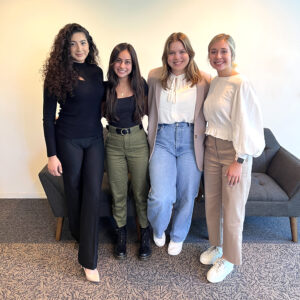 Wright Ford Young & Co. welcomed four new interns to our team in May: Fayze Hindi, Elizabeth Gieser, Chenal Assady, and Brooke McMurtry. These interns will be joining our audit department for our summer internship program. We are thrilled to introduce these new hires to our WFY team.
Fayze Hindi
In May, Fayze Hindi joined our audit department as an Audit Intern. She's currently a senior at Whittier College studying for her degree in Business Administration and minoring in Economics and Computer Science. Fayze plans on continuing her education at USC with a Master's degree in Accounting. In her spare time, some of Fayze's hobbies include hiking, running, and songwriting.
Elizabeth Gieser
Elizabeth Gieser joined WFY's audit department last month as an Audit Intern. Elizabeth is attending Biola University and studying on her Master's degree in Accounting. She is also currently pursuing her CPA license. Outside of the office and school, Elizabeth enjoys playing violin and tennis.
Chenal Assady
Chenal Assady started with WFY in May as an Audit Intern. She recently finished community college at Irvine Valley college and will be transferring to Cal State Fullerton this Fall. Chenal will be studying for her degree in Business Administration with a concentration in Accounting. While she was at IVC, Chenal was a part of the Guaranteed Accounting Program 4+1. She loves reading, going to Disneyland, going to the beach, and spending time with her dog during her spare time.
Brooke McMurtry
Last month, Brooke McMurtry joined WFY as an Audit Intern for our audit department. She is currently attending Cal State Fullerton and a member of the Business Honors Program there.  Brooke is majoring in Accounting and minoring in Finance. She is also a part of a community service group and started her own book club at Cal State Fullerton. When she's not attending school or in the office, she enjoys reading and doing community service.
Interested in joining WFY in one of our departments? If you are interested and qualified for any of our open positions, please email your resumes careers@cpa-wfy.com or go to our Careers page.
Wright Ford Young & Co. is headquartered in Irvine, CA and is the largest single office CPA firm in Orange County. WFY is a full service corporate accounting firm offering audit, tax, estate and trust, and business consulting services to closely held company and family business owners. More information about our Firm can be found at www.cpa-wfy.com
https://www.cpa-wfy.com/wp-content/uploads/2022/06/audit-interns-may-2022-200.jpg
200
200
Chanelle Bossert
https://www.cpa-wfy.com/wp-content/uploads/2023/02/WFY_Horizontal-Logo-50-1.png
Chanelle Bossert
2022-06-02 12:49:36
2022-06-02 12:49:36
Interns Join Audit Department for WFY Summer Internship Program