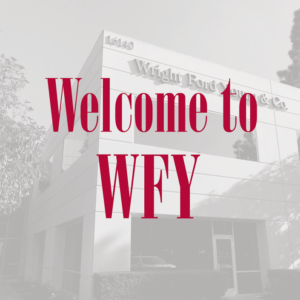 In July, Wright Ford Young & Co. welcomed five new hires to our audit department and tax department. Shane Kuhlman, Angela Manaloto, Joshua Salinas, and Devin Huffman joined our tax department while Andrew Wakefield joined our audit department. We are excited to have these new additions to our growing firm. Welcome to the WFY team!
Shane Kuhlman
In July, Shane Kuhlman joined WFY's tax department as one of our three Tax Interns. Shane recently graduated from CSU Fullerton with his degree in Business Administration with an emphasis on Accounting. This is his first internship in his accounting career and he's currently working towards his CPA license starting in the Fall. In Shane's spare time, he enjoys listening to music, hanging out with friends, and snowboarding.
Angela Manaloto
Angela Manaloto also joined WFY as one of our Tax Interns. She is currently a Senior at CSU Fullerton majoring in Accounting and will receive her Bachelor's degree by next Spring. This is Angela's first tax internship in her accounting career. Angela loves baking, traveling, and watching Formula One when she's out of the office and off from college.
Joshua Salinas
This month, Joshua Salinas started as a Tax Intern in our tax department. He is currently attending CSU Fullerton and working towards his degree in Accounting. After receiving his degree, Joshua intends to start focusing on earning his CPA license. This is also his first internship in his accounting career. In his downtime, Joshua likes hiking and snowboarding.
Devin Huffman
Devin Huffman began his tax internship this Summer in our tax department. He is currently attending high school and plans to grow his accounting career. In his spare time, Devin enjoys playing soccer, traveling, and learning how to snowboard and skimboard.
Andrew Wakefield
This month, Andrew Wakefield started as Audit Staff in WFY's audit department.
Interested in joining WFY in one of our departments? If you are interested and qualified for any of our open positions, please email your resumes careers@cpa-wfy.com or go to our Careers page.
Wright Ford Young & Co. is headquartered in Irvine, CA and is the largest single office CPA firm in Orange County. WFY is a full service corporate accounting firm offering audit, tax, estate and trust, and business consulting services to closely held company and family business owners. More information about our Firm can be found at www.cpa-wfy.com
https://www.cpa-wfy.com/wp-content/uploads/2023/02/Welcome-to-WFY-logo-with-color-overlay-200.png
200
200
Chanelle Bossert
https://www.cpa-wfy.com/wp-content/uploads/2023/02/WFY_Horizontal-Logo-50-1.png
Chanelle Bossert
2023-07-27 17:05:19
2023-08-23 15:21:40
New Hires Join WFY's Tax and Audit Departments