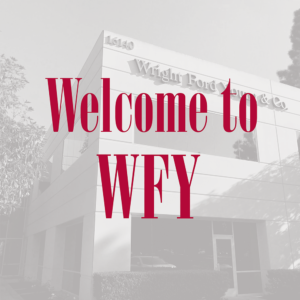 In February, Wright Ford Young & Co. welcomed Cristina Hargett to our firm. Cristina joined us as a Tax Administrative Assistant in our tax department. We are thrilled to welcome Cristina to the firm.
Cristina Hargett
Cristina Hargett started with WFY as our newest Tax Administrative Assistant in our tax department. She received her Associate's degree in Bookkeeping/Accounting at Goldenwest College and started her career as a receptionist for a local CPA firm while also starting a new family. After some time of working as a receptionist, Cristina transitioned into bookkeeping while also doing administrative work. She has worked at three different firms and WFY will be her fourth firm. Outside of the office, Cristina enjoys rescuing stray cats, cooking, spending time with her son, and traveling to the River and Maui.
Interested in joining WFY in one of our departments? If you are interested and qualified for any of our open positions, please email your resumes careers@cpa-wfy.com or go to our Careers page.
Wright Ford Young & Co. is headquartered in Irvine, CA and is the largest single office CPA firm in Orange County. WFY is a full service corporate accounting firm offering audit, tax, estate and trust, and business consulting services to closely held company and family business owners. More information about our Firm can be found at www.cpa-wfy.com
https://www.cpa-wfy.com/wp-content/uploads/2023/02/Welcome-to-WFY-logo-with-color-overlay-200.png
200
200
Chanelle Bossert
https://www.cpa-wfy.com/wp-content/uploads/2023/02/WFY_Horizontal-Logo-50-1.png
Chanelle Bossert
2023-02-21 15:30:44
2023-02-21 15:30:44
New Tax Administrative Assistant Joins WFY in February