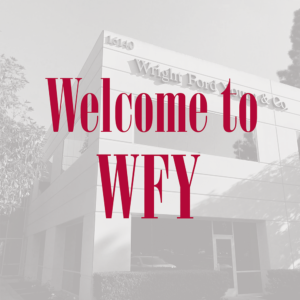 In November, Wright Ford Young & Co. welcomed three new hires to our tax department and audit department. Jenifer Hwang joined our tax department, and Sean Berlin and Tyler Connally joined our audit department. Welcome to the WFY team, everyone!
Jenifer Hwang
In mid-November, Jenifer Hwang was welcomed into our tax department as a Tax Senior. She attended school locally and received her degree at Cal State Fullerton. Prior to WFY, Jenifer has been in accounting for five years. During her spare time, she enjoys spending time with family, friends, and her dog; building Legos; and eating delicious food.
Sean Berlin
Sean Berlin joined WFY as Audit Staff at the beginning of November. In 2018, he graduated from UC Santa Barbara with his Bachelor's degree in Economics and Accounting. Sean made a career change from working in sales to having his first job position in accounting at WFY. His hobbies include martial arts, tennis, video games, watch collecting, and book/comic book collecting.
Tyler Connally
Also starting in the beginning of November, Tyler Connally started with WFY in our audit department as Audit Staff. Tyler graduated last May from San Diego State University with his Bachelor's degree in Business Administration, Accounting. Before coming to WFY, he has experience working in Accounting Receivable/Accounts Payable. In his time outside of the office, Tyler's hobbies are playing golf and doing yoga.
Interested in joining WFY in one of our departments? If you are interested and qualified for any of our open positions, please email your resumes careers@cpa-wfy.com or go to our Careers page.
Wright Ford Young & Co. is headquartered in Irvine, CA and is the largest single office CPA firm in Orange County. WFY is a full service corporate accounting firm offering audit, tax, estate and trust, and business consulting services to closely held company and family business owners. More information about our Firm can be found at www.cpa-wfy.com
https://www.cpa-wfy.com/wp-content/uploads/2022/11/Welcome-to-WFY-logo-with-color-overlay-200.png
200
200
Chanelle Bossert
https://www.cpa-wfy.com/wp-content/uploads/2023/02/WFY_Horizontal-Logo-50-1.png
Chanelle Bossert
2022-11-17 09:28:18
2022-11-17 09:28:18
Three New Hires Join WFY in November