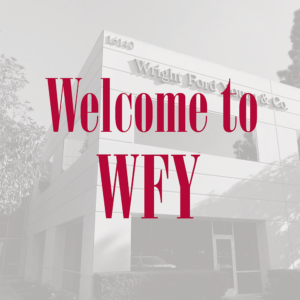 Wright Ford Young & Co. is excited to welcome three new hires to our firm: Cathy Zhang, Kirby McIlveen, and Susie Johnson. Cathy Zhang joined our tax department, Kirby McIlveen joined our estate & trust department, and Susie Johnson joined our administrative department. WFY is excited to have these new hires on our firm's team.
Cathy Zhang
In mid-August, Cathy Zhang was welcomed into our tax department as Tax Staff. She graduated from Aalto University in Finland with a Master's degree in International Business Management. Along with her Master's degree, she also has an Associate degree in Accounting.  During her time outside of the office, Cathy is a food lover, a travel enthusiast, and enjoys spending time with her family.
Kirby McIlveen
Kirby McIlveen started with WFY's estate & trust department in August as a Family Office Services Accountant. She graduated from CSU Fullerton with a Bachelor's degree in Business Administration. Kirby has over a year in bookkeeper experience and has the QuickBooks Online ProAdvisor Certification. While she's off the clock, Kirby's hobbies include dog sports – her dogs Sora and Torch are multiple time world and national champion disc dogs and have done halftime shows for the Los Angeles Chargers and the San Francisco 49ers.
Susie Johnson
Towards the end of August, Susie Johnson joined WFY as an Administrative Assistant. She has over thirty years of administrative experience within several industries including an advertising agency and a mortgage company. Her career over the past years have taught her to especially pay attention to detail and proofread everything. Outside of the office, Susie enjoys traveling, spending time with friends and family, and attending live music events.
Interested in joining WFY in one of our departments? If you are interested and qualified for any of our open positions, please email your resumes careers@cpa-wfy.com or go to our Careers page.
Wright Ford Young & Co. is headquartered in Irvine, CA and is the largest single office CPA firm in Orange County. WFY is a full service corporate accounting firm offering audit, tax, estate and trust, and business consulting services to closely held company and family business owners. More information about our Firm can be found at www.cpa-wfy.com
https://www.cpa-wfy.com/wp-content/uploads/2022/09/Welcome-to-WFY-logo-with-color-overlay-200.png
200
200
Chanelle Bossert
https://www.cpa-wfy.com/wp-content/uploads/2023/02/WFY_Horizontal-Logo-50-1.png
Chanelle Bossert
2022-09-07 23:19:51
2022-09-09 08:35:08
Three New Hires Join WFY in August