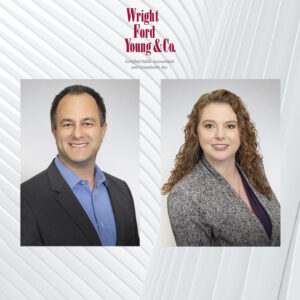 Our WFY Partners Jeff Myers, CPA, and Cyndi LeBerthon, CPA, will be presenting at MGI's Efficiently Conducting Employee Benefit Plan Audits on June 23, 2021.
If you're looking to learn what's new and what peer reviewers are looking for when they review employee benefit plan audits, this webinar is for you. Jeff and Cyndi will go in-depth with important topics on employee benefit plan audits. They will also cover other topics like common deficiencies and tips on working in a remote environment while performing employee benefit plan audits.
Jeff Myers is WFY's Managing Partner and oversees the audit department as well. He assists clients with accounting systems and controls establishment, bank financing obtainment, due diligence procedures, and financial ratio and benchmarking. Jeff also has extensive experience with the challenges facing rapidly growing companies, including revenue recognition, business acquisitions, and international expansion.
Cyndi LeBerthon is WFY's Senior Audit Partner and Partner-in-Charge of our audit department.  She has extensive experience in employee benefit plan audits and ERISA regulations, and the unique compliance issues related to employee benefit plans. Cyndi also stresses compliance with plan provisions and ERISA, and has audits 401(k), 403(b), ESOP, and pension plans.
The webinar will be conducted online via Zoom and will last 90 minutes. To register and get inside tips from WFY specialists, click here.
Wright Ford Young & Co. is headquartered in Irvine, CA and is the largest single office CPA firm in Orange County. WFY is a full service corporate accounting firm offering audit, tax, estate and trust, and business consulting services to closely held company and family business owners. More information about our Firm can be found at www.cpa-wfy.com
https://www.cpa-wfy.com/wp-content/uploads/2021/06/jeff-and-cyndi-200.jpg
200
200
Chanelle Bossert
https://www.cpa-wfy.com/wp-content/uploads/2023/02/WFY_Horizontal-Logo-50-1.png
Chanelle Bossert
2021-06-08 10:24:31
2021-08-17 10:08:59
WFY Partners Jeff Myers & Cyndi LeBerthon Host Upcoming Webinar