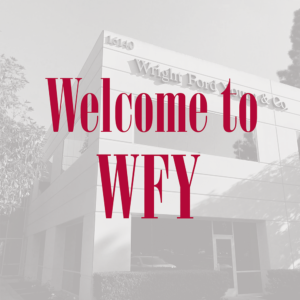 Wright Ford Young & Co. welcomes three new hires to our tax department and estate and trust department this month. Jonathan Djahanbani joined our estate and trust department, and Hannah Carbone and Justus Huang joined our tax department. WFY is excited to have these new hires join the WFY team.
Jonathan Djahanbani
This week, Jonathan Djahanbani started in our estate and trust department as an Estates and Trusts Tax Senior. He graduated from UCLA with his Bachelor's degree in History with a minor in Accounting. On top of that, Jonathan has a Master's degree in Business Taxation from USC. His accounting career started as working for multiple firms as Tax Staff and Advanced Tax Staff for the past two years. While he's outside of the office, Jonathan enjoys video games, basketball, and watching professional sports.
Hannah Carbone
Towards the beginning of January, Hannah Carbone joined WFY as our newest Tax Senior. She went to USC where she received her Bachelor's degree in Accounting. Hannah has over four years of experience in mostly public accounting. When she's not working, Hannah's hobbies include cooking, watching Netflix, and playing with her dog.
Justus Huang
Justus Huang started as a Tax Intern for our tax department at the beginning of January. He's currently a sophomore in college and will be transferring to CSU Fullerton in the Fall. This is his second internship and has been wanting to be an accountant since high school. During his free time, Justus likes to read books and hang out with his friends.
Interested in joining WFY in one of our departments? If you are interested and qualified for any of our open positions, please email your resumes careers@cpa-wfy.com or go to our Careers page.
Wright Ford Young & Co. is headquartered in Irvine, CA and is the largest single office CPA firm in Orange County. WFY is a full service corporate accounting firm offering audit, tax, estate and trust, and business consulting services to closely held company and family business owners. More information about our Firm can be found at www.cpa-wfy.com
https://www.cpa-wfy.com/wp-content/uploads/2023/01/Welcome-to-WFY-logo-with-color-overlay-200.png
200
200
Chanelle Bossert
https://www.cpa-wfy.com/wp-content/uploads/2023/02/WFY_Horizontal-Logo-50-1.png
Chanelle Bossert
2023-01-26 12:57:45
2023-01-26 13:48:12
WFY Welcomes Three New Hires in January